 Ingredients :
(for 3 people)
500 g canned asparagus
1 cube of vegetable broth
1 shallot
1 onion
20 cl of fresh cream
500 ml water
salt pepper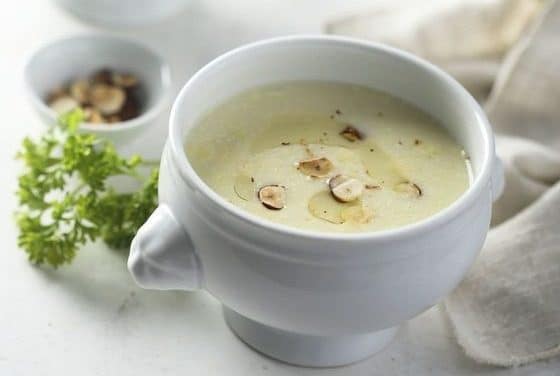 Preparation : 10min
Cooking : 30min

Drain the asparagus. Cut the tips. Reserve them. Place the rest of the asparagus in a small casserole dish with the water, stock cube, onion and shallot, chopped beforehand.
Cook for 30 minutes over low heat.
Mix everything in a blender.
Add the fresh cream, salt, and pepper.
Return the soup to the casserole dish, add the asparagus tips.
Reheat gently before serving.
Asparagus :
Very low in calories, asparagus benefits from a high nutritional density. It contains many nutrients (vitamin C, A, E, magnesium, iron, folic acid). It also contains soft and digestible fibers that promote the regulation of transit (pectin's and mucilage's retain water) while stimulating it (thanks to the celluloses of the stem). Asparagus thus gently remedies a tendency to constipation.