Recipes

Roasted vegetable couscous Ingredients :
(for 6 people)
4 zucchinis, diced
500g pumpkin, peeled, shelled, and diced
1 red onion, quartered
250 g of cherry tomatoes
75 ml of olive oil
200 g of couscous
Fresh cilantro, chopped mint and parsley
Couscous spices
The juice of a lemon
250 ml of boiling water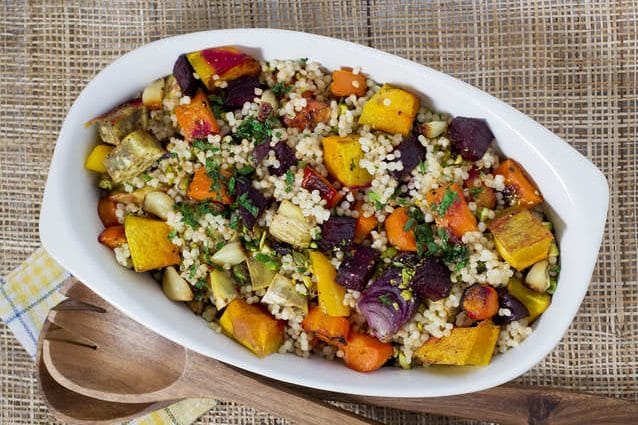 Preparation : 10min
Cooking : 30min

Place the pumpkin, zucchini, tomatoes, and onion in a dish with 2 tablespoons of olive oil. Add the herbs and spices. Salt and pepper then mix.
Roast for 25 minutes in an oven preheated to 220°C
Meanwhile, put the couscous semolina in a container then pour the boiling water. Cover the container with a tea towel and let stand for 5 minutes until the beans swell.
Whisk together the remaining olive oil and lemon juice in a bowl, pour over everything, then season with S&P.
Serve the roasted vegetables with the semolina.