Recipes

Salmon with tomatoes and fennel Ingredients :
(for 4 people)
4 salmon fillets
20 cherry tomatoes
2 fennel bulbs, cut into quarters
4 cloves of minced garlic
2 red onions, cut into quarters
4 tablespoons of lemon juice
4 tablespoons of olive oil
1 tablespoon of balsamic vinegar
1 tablespoon of honey
Salt and pepper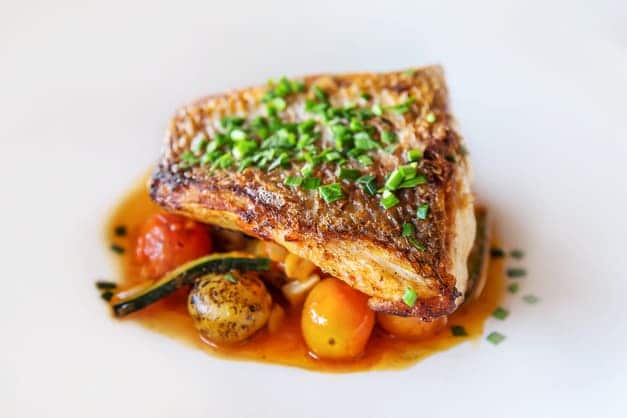 Preparation : 10min
Cooking : 30min

Drizzle the salmon fillets with lemon juice. Salt and pepper
Combine olive oil, honey, vinegar and garlic in a bowl. Add salt and pepper.
Put the cherry tomatoes, onions, and fennel in a salad bowl and pour over the sauce previously prepared. Mix well to coat the vegetables then spread it all out on a baking dish.
Roast for 10 minutes in an oven preheated to 220°C. Add the salmon fillets to the dish and cook for another 12 to 15 minutes.
Serve the salmon with roasted vegetables, semolina or rice.
Fish
Fish, particularly oily fish such as salmon, are a privileged source of omega-3, some of which are essential for the development and functioning of the nervous system and contribute to the prevention of cardiovascular diseases. Fish is also a source of protein, minerals such as phosphorus, and trace elements, such as iodine, zinc, copper, selenium and fluorine, as well as vitamins A, D, E which are essential for health.
It is recommended to consume fish twice a week by combining fatty fish with a high content of omega-3 (salmon, sardines, mackerel, herring, smoked trout) and lean fish.