Recipes

Vegetable salad, fennel and lemon Ingredients :
(for 3 people)
2 fennels
6 salad hearts
1 black radish
3 tablespoons lemon juice
1 dl olive oil
Salt, pepper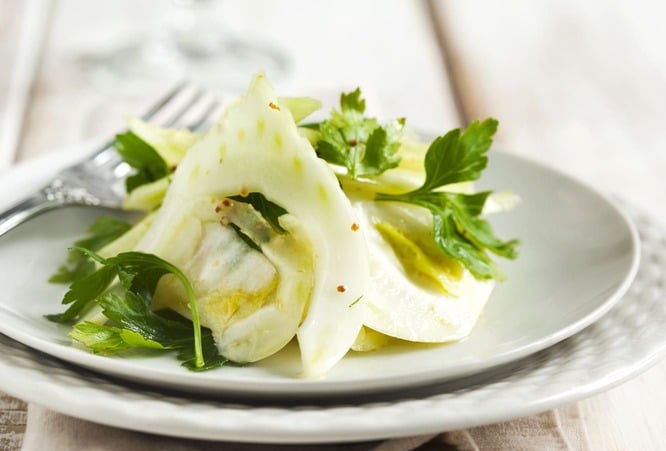 Preparation : 10min
Cooking : 0min

Cut the salad hearts, rinse and wring them out. Rinse the fennels after removing the hard leaves and cut them into strips. Rinse the black radish, dry it and cut it into thin strips.
Combine the salad, fennel and black radish.
Emulsify olive oil and lemon juice. Add salt and pepper.
Fennel :
Fennel is an aromatic plant from the Mediterranean regions, the bulb of which is eaten as a vegetable and the seeds as a condiment. In addition to its ability to stimulate digestion, fennel is recommended to calm abdominal spasms and pain (gastritis, colitis). Fennel helps prevent the formation of intestinal gas by limiting the fermentation process of food.