 Ingredients :
(for 6 people)
6 small zucchinis
3 eggs
1 shallot
1 head of garlic
1 tablespoon of heavy whole cream
100 g of grated gruyere
1 bunch of basil
1 bunch of parsley
Olive oil
Salt pepper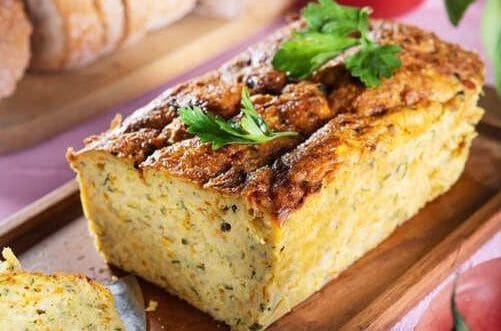 Preparation : 30min
Cooking : 45min

In a casserole dish, brown the diced zucchini and shallot with a little olive oil, salt and pepper.
Chop the parsley, basil, garlic, set aside.
At the end of cooking add the chopped parsley and garlic basil. Mix, stop the fire.
In a bowl, beat the eggs, add the cream, salt and pepper.
Add the zucchinis, mix, add the grated gruyere, mix.
Oil a cake mold. Pour the preparation. Place in the oven for 45 minutes. When the terrine is cooked, take it out of the oven.
Turn out hot. Let it cool down and refrigerate before serving.