 Ingredients :
(for 4 people)
1 fennel bulb
750 g of tomatoes
1 teaspoon of tomato puree
300 ml of salted boiling water
1 tablespoon of olive oil
Balsamic vinegar
1 tablespoon of lemon juice
1 garlic clove, crushed
1 chopped onion
Green olives, pitted and cut into pieces
Coriander seeds
Chopped oregano
Salt pepper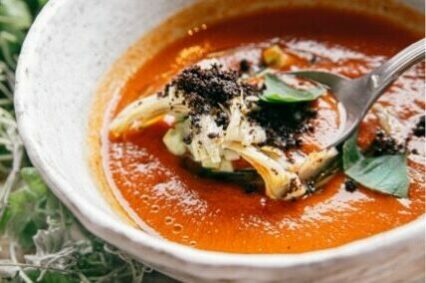 Preparation : 10min
Cooking : 25min

Place tomatoes in a large saucepan and cover them with boiling water. Let them for 1 minute. Drain them, remove the skin from the tomatoes and chop the flesh.
Remove the green leaves from the fennel and set them aside. Slice the bulb, put it in a saucepan and cover with salted boiling water. Cover and cook for 10 minutes over low heat.
Meanwhile, crush the coriander and pepper seeds with a pestle in a mortar. Heat the olive oil in a saucepan, add the crushed spices, garlic and onion and cook for 5 minutes over low heat. Add the vinegar, tomatoes, lemon juice and oregano.
Mix, then add the fennel and its cooking water, the tomato paste and the salt. Simmer 10 minutes.
Transfer the contents of the saucepan to a blender and blend. Let cool, then set aside in the refrigerator overnight. Serve the gazpacho decorated with oregano leaves and pieces of olives.